About
Us
The Journey Begins
Village Green Ecofarms Private Limited has been registered and set up in Kolkata, India in the year 2008, under Indian Company's Act of 1956.
Our Objectives
To carry on develop the business of fish cultivation/production (pisciculture) in all varieties and the business of piggery, goatary, poultices, cattle farms, agriculture farms, life stock based products, traders and exporters of agro products, dairy products, life stock based products, forest and any other agro based products, plantation of standing trees and flowers, vegetables etc. of all varieties.
To carry on and develop eco-friendly tourism and hospitality business including development of cottage accommodation in a rural ambience.
About Our Organization
Promoters-First Directors

There were two Promoter-Directors of the Company-
Mr. Rahul Roy
Mrs. Soma Roy
Managing Director

Mrs. Soma Roy has been appointed as Managing Director of the Company w.e.f. 30.04.2008 and Form 32 has also been submitted with the ROC for the said appointment.
Inclusion of New Director in the Board of Directors

Mrs. Joyeeta Das has been inducted as a Director in the board of Directors of the Company vide Board Resolution dated 11th day of November, 2009. Form No.32 required for this appointment has duly been submitted to the ROC on 5th day of January, 2010.

Sad demise of Mr. Rahul Roy, Promoter-Director
After a brief spell of illness Mr. Rahul Roy left for his heavenly abode on 18th day of November, 2009. Form No.32required to this effect has duly been submitted to the ROC on11th day of January, 2010.
Operations and Future Prospect
The company has acquired land 9.32 acres of Land property with almost 1.5 hector Of a water body in it, situated in Notni, Beraberi, District North 24-Parganas under P.S. Ashoknagar.
It is a vast exposure of a greenery fully guarded by barbed wire fencing on all its side. There is a main gate in the front. There is an independent transformer for electricity.
The Mango orchard here comprises of almost 90-100 mango trees of different varieties. Other trees like jackfruit, blackberry, guava, coconut, sal, shegun, etc. are spread all over the property. There are bouganvillas of different colours surrounding the entire property.
The pond will be used for fish farming variety of fishes on Rui, Katla, Mrigel, Bata and also prawns are being farmedin the pond.
The Directors have pleasure to report that primary preparation of land and pond has already been started and production activity will be started very soon.
The Directors have pleasure to report that primary preparation of land and pond has Already been completed and production activity has been started on an experimental Basis and the commercial production activity will be started very soon.
Both Mr. & Mrs. Roy (that is, Director Managing Director) were very keen on having two temples built in the property. With the help of the local artists from Bishnupur Along with their own creative ideas they built two beautiful terracotta temples inside The property. At present there is turmeric plantations, sugarcane plantations and other Vegetables spread out throughout the property.
Special

Attraction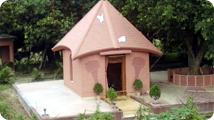 Terracotta Temple
Two temples in this property by specially designing terracotta tiles themselves and finally getting it executed by the artist of Bishnupur, which is famous for it old, medieval terracotta temples...
Click here For Details..
-----------------------------------------
Investor

Relation

Village Green Ecofarms Pvt. Ltd. has taken off smoothly and is on its way of spreading its wings. From a concept of a private farm to agriculture, organic farming , integrated fish farming , poultry and finally to Eco Tourism. This is the broad road map to its success ..

-----------------------------------------
Social

Services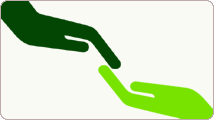 Our Social Motto
A trust is formed named, Rahul & Soma Roy Charitable Trust, to carry out various charitable work. The highlighting objective of the trust was to set up an old age home at a subsidized cost...